Enter details
Payment
Complete!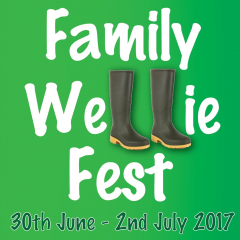 Family Wellie Fest
Friday 30th June to Sunday 2nd July 2017
Pull on your wellie boots, pack your favourite festival outfits and make your way to glorious North Devon for the inaugural Wellie Festival which kicks off on Friday 30th June from 6pm and runs until 6pm Sunday 2nd July. The three-day Wellie Festival which is taking place at The BIG Sheep family attraction in Bideford will be offering a great selection of camping, caravanning and adventure barns to stay in so why not enjoy three days of fun in one of the UK's favourite holiday destinations.
Book accomodation with The Ultimate Adventure Centre by calling 01237 880028.
Family Wellie Fest - Friday 30th June
Tickets include:
Evening Only - Friday £5.00
Individual Weekend Ticket - Friday, Saturday and Sunday £20.00
Group Weekend Ticket - Friday, Saturday and Sunday £70.00
Family Wellie Fest - Saturday 1st July
Tickets include:
Evening Only - Saturday £5.00
Individual Daytime Ticket - Saturday £10.00
Group Daytime Ticket - Saturday £35.00
Family Wellie Fest - Sunday 2nd July
Tickets include:
Individual Daytime Ticket - Sunday £10.00
Group Daytime Ticket - Sunday £35.00
Your Basket
Item
Price
Qty
Subtotal
There are no items currently in your basket

Total

£0.00