Enter details
Payment
Complete!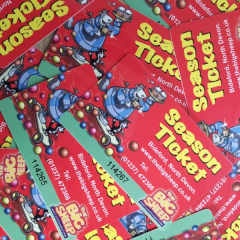 Annual Pass - Monthly Billing
ANNUAL MEMBERSHIPS TO THE BIG SHEEP:
Annual memberships to The BIG Sheep include unlimited standard daytime visits for 12 months from purchase (Daily from April until October and weekends and school holidays from November until March – ask at reception for a full list of dates), as well as exclusive member only promotions and discounts.

The BIG Sheep members can also benefit from a variety of promotions for Atlantis Adventure Park, our sister attraction.
ONLINE PAYMENT OPTIONS FOR MONTHLY PAYMENT SUBCRIPTION:
Annual memberships purchased with a 12 month payment subscription are £46.95 per person - spreading payment over 12 months. The initial payment for an individual membership is £13.95 and the balance of £33 is collected over 11 monthly instalments of £3.
Our toddler guests (under 92cm) will pay a single one-off payment of £6 per toddler. They will receive a Little Shepherd card from reception, on their initial visit which entitles them to return for free until they are 92cm and over.

Babies under 12 months are free of charge.
ON THE DOOR PAYMENTS FOR MEMBERSHIPS:
Annual Memberships paid in a single one-off payment from reception are £40 per person. Single Payment annual memberships are only available to purchase from The BIG Sheep reception or by calling 01237 472366 so we can issue you your membership cards.
CANCELLING OF MEMBERSHIPS:
By Signing up today you are subject to a 12 month contract. Guests wishing to cancel their Annual Memberships paid by monthly subcription can only do so within 28 days of the expiry date, this must be in writing by post or emailing nicola@thebigsheep.co.uk
All Annual Memberships paid by monthly subscription receive an email 1 month before my 12 month contract is due to expire asking if I would like to continue with another 12 month contract. I understand that if I do not acknowledge this email by clicking on the link my contract will not auto-renew. Monthly subcription members must notify us if they wish to unsubscribe within 28 days of the renewal date/first initial payment date. Alternatively any membership that auto renews will be subject to a further 12 month contract.
Single one-off payment Annual Memberships and Little Shepherd cards cannot be cancelled and no refund will the provided.
Your Basket
Item
Price
Qty
Subtotal
There are no items currently in your basket

Total

£0.00